Welcome to APO
AIDS Project of the Ozarks (APO) is a non-profit community-based organization serving a 29 county region in southwest Missouri. APO currently serves over 600 clients with HIV/AIDS and their families. Concerned families and friends established the organization as a grass roots entity in 1983. Services include: medical care, case management, education to the general public, and services to persons with HIV infection, their families and significant others in a confidential, caring environment.
---
Red Ribbon Ride
14th Annual Red Ribbon Ride
Saturday, May 20, 2017
17,  30,  36  and 50 Mile Rides Begin at 8:30 am
7 Mile Ride begins @ 10:30 am
Ride begins and ends at Galloway Station Bar and Grill
Lunch and after party begins at Galloway Station Bar and Grill on Republic Road
All Rides are Road Rides (Sorry no access to trails for the kiddos)
Fully Stocked Rest Stops
AFTER-PARTY BEGINS AT NOON
Food and Drinks provided by Galloway Station
To register please visit http://www.ozarksredribbonride.org/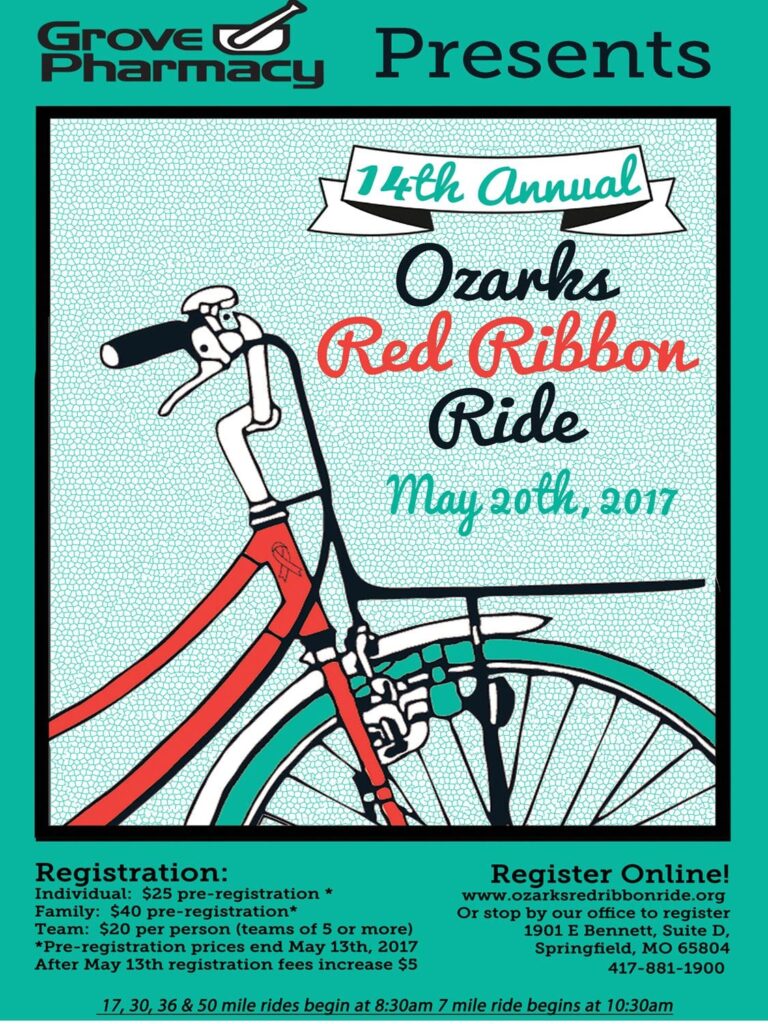 APO Downtown
APO Downtown, located at 303 Park Central West in downtown Springfield has undergone a name change. In an attempt to avoid confusion with other downtown businesses, we now refer to this location as "APO Downtown". We provide HIV and STI testing at APO Downtown every Friday and Saturday evening from 6-11pm.
APO's Outreach programs have added a Gay and Bi-sexual men's outreach program
Read More …
Board Meeting
APO's  next board meeting will be held on Tuesday March 28th at 6:30 pm. The meetings will be held at  at 1901 E Bennett, Suite D, Springfield, MO 65804
Future board meetings will be held on May 23rd at the same time and location.
Inclement Weather
During the winter months occasionally our office might be closed due to inclement weather.  We will do our best to post publicly if we are not going to be open. If you have an appointment scheduled, or business to conduct on site, for your safety; IF we are experiencing bad weather, and you do not see any closings posted yet  please contact our office at 417-881-1900 to insure we are operating as scheduled.
Main Office
Our walk-in testing schedule at APO (1901 E Bennett, Suite D, Springfield, MO 65804) is Mon, Tues, Thurs, and Friday 9am-Noon and 1-3pm. We do not offer walk-in testing hours on Wednesdays. Additionally, you can always call APO to schedule an appointment outside of these walk-in testing hours to get tested at a time that is more convenient for you. If you would like to schedule a testing appointment please call APO for more information. Contact Us